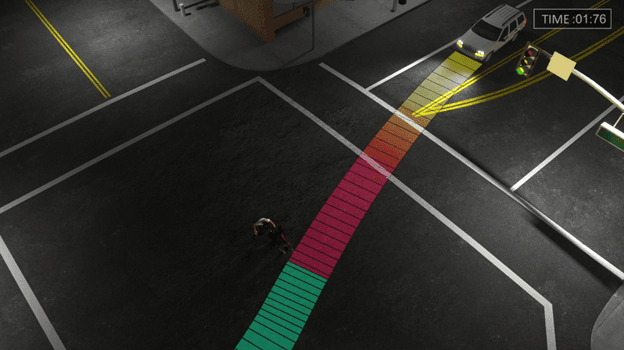 Laser Scanning
Laser Based Photogrammetry
Video Analysis
Accident Reconstruction
One night, while at a bar in Ventura County, Gerardo Rodriguez and another man, Jorge, started a physical altercation that end with bloodshed. Gerardo and a friend were driving away later when they saw Jorge again and started to chase him in his car. Gerardo's accomplice jumped out of his car to pursue Jorge while Gerardo drove around to flank him.
As this pursuit ensued, Jorge tripped forward, falling to his knees. Gerardo was quickly approaching in his vehicle, and when this fall put Jorge in his path, he could not steer away in time. This impact killed Jorge immediately, though Gerardo claims he only meant to drive near him to get out and assault him.
Ventura County's DA filed first-degree murder charges against Gerardo, though he continued to plead that it was an accident. A low-pixel security camera located over 200 feet away from the incident captured the event in the corner of the video; however, to the naked eye, there wasn't enough support for either claim.
Gerardo's public defender asked 3D Forensic to reconstruct the incident based on the grainy security footage to possibly verify Gerardo's account of the incident.
Challenges:
Determine whether low-pixel security footage can prove or disprove Gerardo's claim that the collision was accidental
Solutions:
Lidar-scan the incident area
Camera-match the security camera's location to compare 2D and 3D environments
Calculate speeds and positional trajectories as seen on footage
The first step to a proper 3D video reconstruction was to visit the incident site and laser-scan the entire area as well as the location of the security camera that captured the event. This provides the team with 3D measurement data that can be aligned to the 2D video of the incident, allowing critical measurements to be extracted.
By working with the security camera's managers, 3D Forensic then performed visual testing on the security system to ascertain the camera's frame rate and possible lens distortions.
With the laser scan and camera data, the team reverse-engineered the video footage's distortion, which allowed us to create a forensically accurate 3D positional analysis of the vehicle and the two pedestrians seen in the footage. Only after completing our tracking analysis were we able to answer several highly disputed questions.
While several witnesses claimed they heard Gerardo sped up just before he collided Jorge, our 3D tracking analysis of the vehicle clearly determined that Gerardo slowed down while approaching Jorge within 20 feet and applied his brakes fully right before impact. Our tracking analysis also determined that Gerardo had turned his vehicle to his left to avoid a direct collision with Jorge, but because Jorge stumbled forward, he fell into Gerardo's path-of-travel too late for him to perceive and react to his location. Our analysis showed that if Jorge had stayed on the ground initially, Gerardo would have driven past him, as he claimed was his intention.
Our courtroom exhibit showed our 3D tracking analysis with a line chart mapping Gerardo's speed as well as a closer, objective animation of the incident based on our 3D reconstruction. We also animated Gerardo's perspective approaching Jorge in his vehicle with markers highlighting the last chance to perceive-and-react to Jorge's positions.
The jury reviewed the animated analysis and found Jose not guilty of first-degree murder, with one juror saying, "the prosecution never proved to us the impact was intentional". The jury did find Gerardo guilty of lesser charges.
**NOTE: Each case is affected by unique factors and requires an independent forensic approach. These case studies serve as general applications and are not universally applicable. The true identities of subjects, entities, and locations have been changed to protect anonymity.**