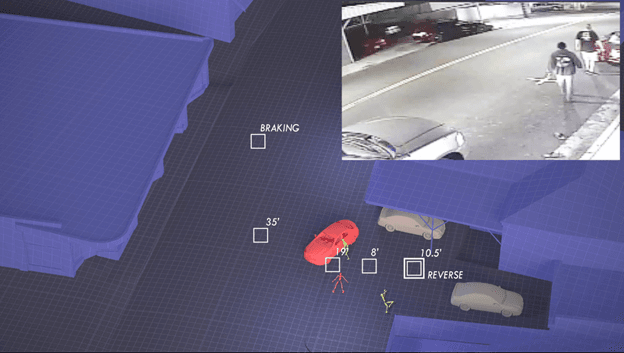 Laser Scanning
Nighttime Visibility
Laser Based Photogrammetry
Video Analysis
Accident Reconstruction
On April 9th, 2019, Skylar and his friend James were visiting Grass Valley, CA from Tampa Bay, FL and stopped for drinks at a local dive bar. While there, some locals were bothered that these outsiders took their favorite table. After confronting them, a fight broke out and Skylar rushed James into their car as he was badly beaten up.
While trying to escape to their hotel, Skylar took a turn down what he thought was an alley, but ended up being a dark parking lot where the two of the assailants were standing. The men attacked Skylar's vehicle while two more men ran over from behind Skylar's vehicle to join in. Skylar frantically reversed, impacting one assailant with the back of his car. After rolling from the trunk onto the ground, the impact to this man's killed him immediately. A security camera outside the bar captured the entire incident.
After investigating, the local DA filed eleven criminal charges against Skylar, the most serious charges including 2nd degree murder and assault with a deadly weapon. Witnesses claimed that Skylar drove into the dark lot on purpose to run over the men who had beaten his friend, James. Skylar, however, said he never saw them or the two men who came behind his vehicle while reversing. 3D Forensic was hired by Skylar's public defender to verify whether he couldn't have seen the men.
Challenge:
Analyze Skylar's claim that he did not mean to hit those involved, but rather to escape the scene
Solution:
3D scan incident environment
Position-match Skylar's vehicle and others involved throughout the collision
Recreate incident in-person with similar-looking actors
Capture calibrated nighttime footage and lumen measurements from nighttime recreation
Testify on how the darkness/visibility of this incident would influence Skylar's perception
3D Forensic visited the incident site to laser scan the entire area as well as Skylar's vehicle, which had been impounded by local police. The team then used laser-based photogrammetry to reconstruct the exact 3D positions of all people seen in the video as well as the three-dimensional position of Skylar's vehicle seen throughout the security video.
Once the team had the forensic foundation for all parties' positions, we traveled to the incident location once more to perform a nighttime visibility analysis of Skylar's perspective. We placed similarly sized and dressed stand-ins at the same spot they were seen on footage. Then, with an image photometer, we measured the exact numerical quantity of lumens reflecting light off key surfaces in the parking lot, including the exemplar stand-ins. Finally, using calibrated nighttime cameras, we drove down the same path as Skylar to better understand his perspective as he approached the two men.
After returning to the office, we performed a line-of-sight analysis from Skylar's left and right eye with 3D models to see if any physical objects could have obstructed Skylar's view of these two men inside the parking lot before he turned his vehicle towards them.
Not only did the lack of lighting yield very poor visibility; the wide A-pillar of Skylar's vehicle, along with two parked cars (seen in the video) both obstructed Skylar's view of these two men until just before he turned. Our visibility analysis demonstrated that these men would not be visible to Skylar until his vehicle headlight directly illuminated the parking lot, aligning with his claim of when he first saw the men and realized that this alley was an enclosed parking lot.
Our team showed our thorough analyses at Skylar's trial and testified on the science behind them. After deliberation, the jury found Skylar not guilty of all eleven counts against him.