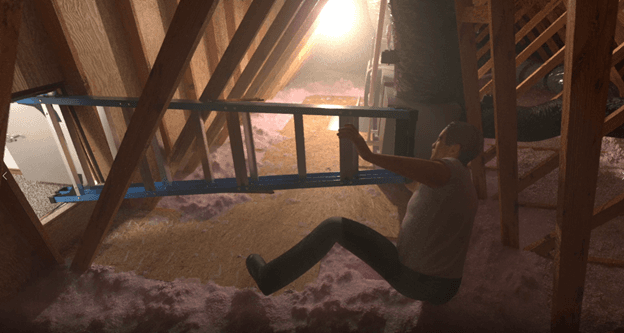 Laser Scanning
Medical Animation
Accident Reconstruction
Mr. Davidson was a career HVAC technician working on a standard dampener when he fell through a worksite ceiling. He was carrying a ladder into a ceiling crawlspace when he stepped off the platform, causing him to fall into the kitchen below and sustain injuries in his back and neck. Mr. Davidson claimed that due to the lighting and improper foam insulation, he was unable to see where the platform ended or where the ceiling began.
The general contractor stated the work environment was clean, well-lit, and safe, and that it was Mr. Davidson's decision to bring a large ladder into a small workspace that caused the injury. Defense counsel brought in 3D Forensic to see if they could figure out how and why this accident occurred.
Challenge:
Analyze attic area and Mr. Davidson's actions for safety risks
Compare medical injuries attributed to this incident to past medical records
Solution:
Laser-scan attic area
Visualize the incident according to testimony through computer animation
Present medical animation showing Mr. Davidson before and after the incident
The first step to understanding this incident was to review the task Mr. Davidson aimed to accomplish. After reviewing OSHA reports and Mr. Davidson's statements, the team understood which part of the dampener he attempted to access for maintenance.
The team then moved to capture measurement data of his workspace and other elements. The team laser-scanned the unfinished crawl space as well as an exemplar six-foot ladder. These elements were then modeled and plugged into reconstruction software for a recreation.
The team then simulated a ladder setup in the tight crawlspace to see if it could be safely performed. They found there was no possibility for this ladder to be properly mounted, even if it was carried to the target destination.
The team then evaluated whether the catwalk provided insufficient space or didn't meet code standards. Laser-scan measurements showed that it did in fact cover a sufficient area and couldn't be blamed for Mr. Davidson's fall. This analysis ultimately revealed that it was Mr. Davidson's attempt to bring in a six-foot ladder onto a five-foot platform that caused him to fall through the kitchen celling, not poor lighting or improper installation of insulation.
Finally, the team looked at the list of medical complications Mr. Davidson listed were caused by this accident. This included chronic lower back pain and disc damage.
The team took a brief comparison between medical records following the accident and records preceding the incident. It was discovered that spinal symptoms Mr. Davidson experienced after were very similar to previous symptoms and weren't visibly amplified by the accident. Because no new medical issues resulted from the fall, the defense's medical expert was able to discredit claims of liability for medical treatment.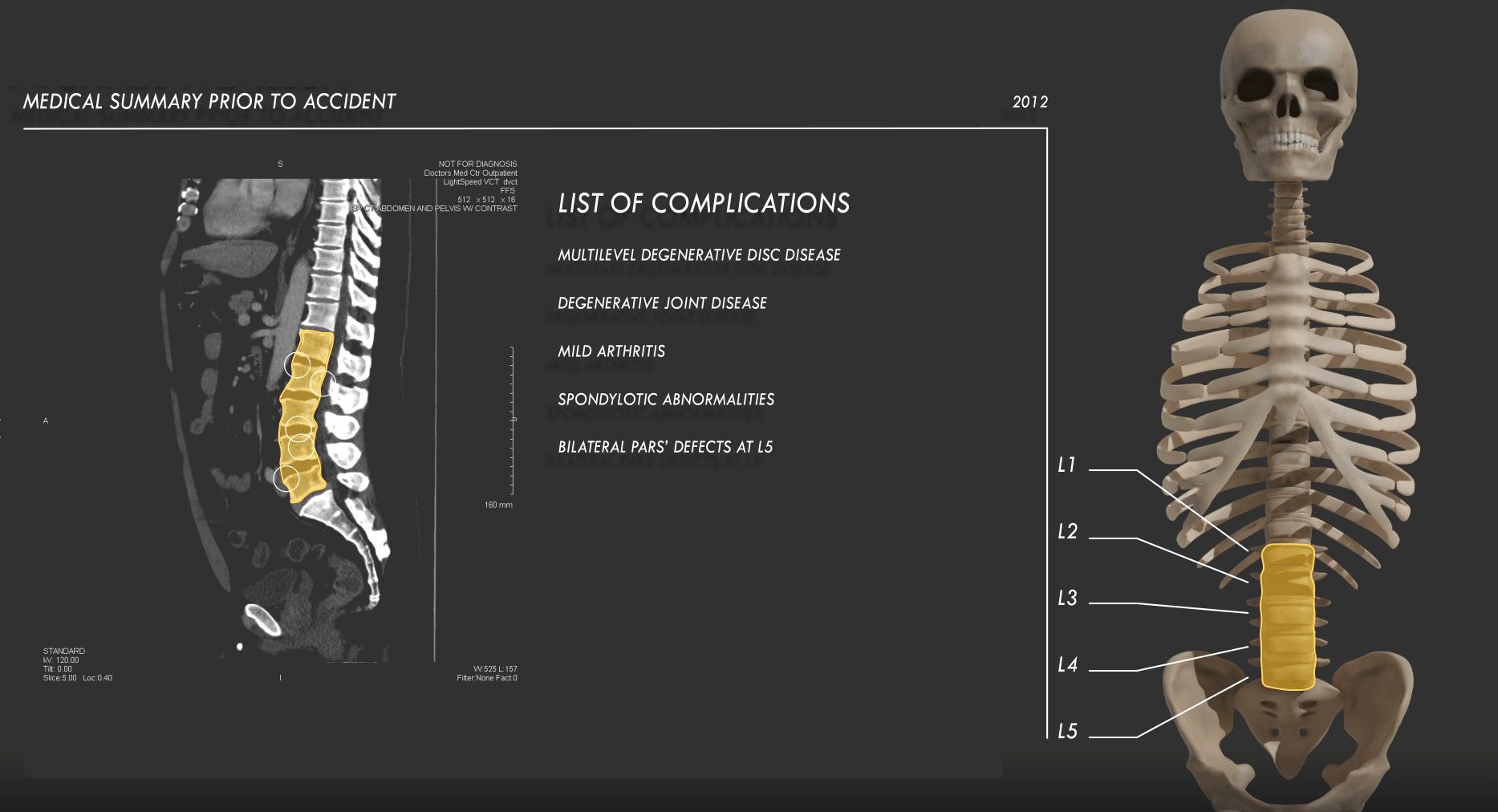 After presenting this animated analysis in mediation, the plaintiff's legal counsel understood their arguments were moot and dropped their settlement amount to a number agreeable by both parties.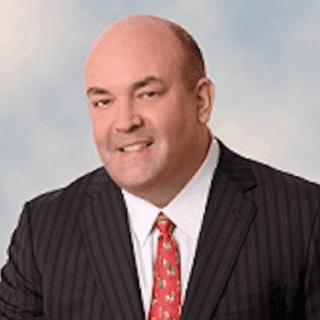 "It was an absolute pleasure working with Jason and the entire technical team. I cannot speak too highly of 3D Forensic and hope we will have an opportunity to work together in the future." -Robert Lockhart; Lockhart Park, LLP
**NOTE: Each case is affected by unique factors and requires an independent forensic approach. These case studies serve as general applications and are not universally applicable. The true identities of subjects, entities, and locations have been changed to protect anonymity.**